White Fish Baked over Fresh Tomato
A fresh way to make moist, healthy, simply delicious fish. Serve with fresh pasta and field greens for a beautiful balanced plate.
Ingredients:
1 pound cod or haddock fillets, skinned and cut into 6 pieces
4 fresh tomatoes, cut into a total of 12 thick cross-section slices
1/4 cup chopped chives
1/4 cup chopped fresh parsley or dill
Dash of salt
Dash of pepper
Dash of sugar (optional)
Directions:
Preheat oven to 350 degrees. Place tomatoes in bottom of casserole pan. Lightly sprinkle tomatoes with salt, pepper, sugar and chives. Lay fish over tomatoes. Sprinkle with parsley or dill. Cover casserole pan and place in to oven. Bake 15- 20 minutes or until fish is done. Do not overcook.
· · ·
Asparagus Wrap with Creamy Tomato Soup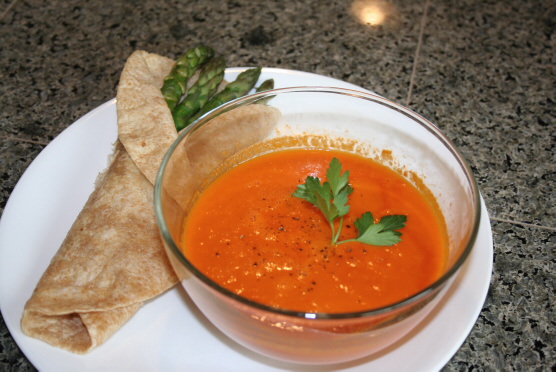 Ingredients:
5-6 stalks of Asparagus
1 oz. (1 slice) of part-skim organic mozzarella cheese
1 whole wheat tortilla wrap
1 ½ cups ready-to-eat, low sodium Creamy Tomato Soup
Directions:
Start by snapping the hard ends off of the bottom of the asparagus stalks such that only the tender stalk and tip remains. Set up a steaming apparatus, such as a steaming basket in a saucepan on the stovetop, or in an electric steamer. Add the asparagus to the steamer, and cook for approximately 5 minutes. Meanwhile, place the slice of cheese on the tortilla wrap. When the asparagus is steamed to a fork-tender consistency, remove it from the steam and place the tortilla over the steam, cheese face up. Steam for approximately 1 minute, or until the wrap is lightly moist. Remove from steam, add the asparagus and roll up.
Serve with your favorite tomato soup, dressed with a sprig of parsley if you have it on hand, a sprinkle of pepper, and I daresay a dash of sea salt for a delightful meal.
* Trader Joe's brand makes a great low-sodium tomato soup and whole wheat wraps too!